Private Tours
Wooroonooran National Park is a World Heritage gem that is just that little bit off the beaten path.
It's home to an array of unique rainforest ecosystems, including Queensland's highest mountain and one of the most important wetland habitats in North Queensland.
Jump into the refreshing waters of Babinda Boulders, marvel at the beauty of Josephine Falls, search for resident cassowaries at Etty Bay or look for Estaurine Crocodiles on a Johnston River Cruise.
Your private Wooroonooran National Park Tour can be tailored to suit the needs of you and your group.
Whether you'd like to visit stunning swimming holes, or enjoy birdwatching mecca, our dedicated driver guide will ensure that you have the most fun and memorable day possible.
WALLABIES AT WHITE ROCK
After departing Cairns, head south to the suburb of White Rock and spot wild Agile Wallabies at a little known spot.
EUBENANGEE WETLANDS
Eubenangee Wetlands is one of the most unique ecosystems in Wooroonooran National Park and is a bird watchers paradise. It consists of rainforest, swampland and grassland and is home to over 190 species of birds. You may even spot a crocodile!
JOSEPHINE FALLS
Located at the foothills of Mt Bartle Frere, Queensland's highest mountain, Josephine Falls is truly a beautiful sight to behold. Vibrant azure pools and granite boulders make this triple-tier waterfall one of the most beautiful in the area.
ETTY BAY
Beach lovers will adore Etty Bay, a beautiful white sand beach surrounded by rainforest slopes. You may even spot a resident Southern Cassowary patrolling the beach!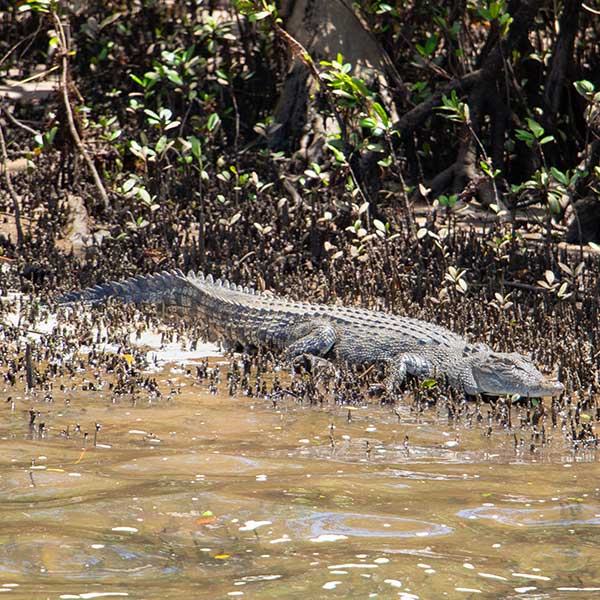 JOHNSTONE RIVER CROCODILE CRUISE
Cruise Innisfail's Johnstone River and search for Estaurine Crocodiles in their natural environment. Learn about this mighty apex predator and look for various bird species as you cruise along the mangroves and out towards the ocean.
BABINDA BOULDERS
With vibrant azure pools that are cool year round, the Babinda Boulders is the perfect place to cool off at the end of your Wooroonooran National Park tour. Walk to the Devil's Pools lookout and learn about the legend that gave this place its name.