Private Tours
A must-do during your

visit to Cairns
The Atherton Tablelands are one of Australia's best natural playgrounds. Jump into bright green rainforest rock pools, swim in waterfalls and wine and dine on scrumptious, locally-made produce.
With an abundance of fairy tale waterfalls, giant fig trees, lush rainforest and endless rolling hills, an Atherton Tablelands tour is a must-do during your visit to Cairns.
A private Atherton Tablelands tour is a great way to explore this area, whilst staying away from large crowds. Our charter tours are fully tailored to the needs of you and your group, so that you can enjoy the best adventure possible.
Join your dedicated driver guide and get ready to explore some of these fantastic places.
WALLABIES AT WHITE ROCK
See Agile Wallabies in their natural habitat in the suburb of White Rock in Cairns. It's the perfect start to a day of nature and wildlife before you've even left Cairns!
CURTAIN FIG TREE
Located just outside of Yungaburra lies one nature's stunning artworks. This strangler fig has a "curtain" of a aerial roots that drop dramatically to the rainforest floor.
MILLAA MILLAA FALLS
Millaa Millaa falls is undoubtedly romantic. This dreamy fairytale cascade is so beautiful, that it is actually the most photographed waterfall in Australia. Go for a swim and re-enact the famous Herbal Essences "hair flip" commercial that was filmed here.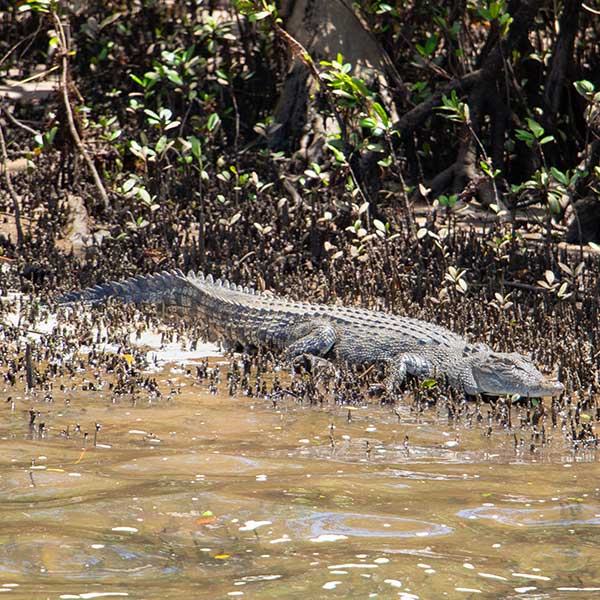 JOHNSTONE RIVER CROCODILE CRUISE
The mighty Estaurine Crocodile is one of the world's most feared apex predators and you can search for them in the wild on a Johnston River cruise. Cruise along the mangrove habitat, whilst searching for crocodiles, birds and other local wildlife.
BABINDA BOULDERS
Cool off in a serene rainforest paradise at the Babinda Boulders. Walk to the Devil's Pool lookout to see azure torrents flowing through sculptural rock formations. Learn the spooky Indigenous legend behind the Devil's Pool.
JOSEPHINE FALLS
Josephine Falls is a stunning triple tiered waterfall cascading from the foothills of Mt Bartle Frere, Queensland's highest mountain. Enjoy a short rainforest walk to this gem, which can be viewed from 3 lookout points.
GALLO DAIRYLAND
Sweet tooths and savoury lovers alike will be in heaven at Gallo Dairyland. This functional dairy farm is located between Atherton and Malanda and has an abundance of gourmet cheeses and hand crafted chocolates.
MAMU CANOPY WALKWAY
Explore the upper layers of the rainforest canopy at Mamu Canopy Walkway. Learn about different rainforest plants and animals and enjoy panoramic views of the surrounding World Heritage rainforest.
MT UNCLE DISTILLERY
Visit the Mt Uncle Tasting Room to try a range of liqueurs and spirits that are produced on site. Wander the farm property and meet donkeys, peacocks and alpacas.